Sambuca Bio Excellence
38.00

CHF
Sambuca Bio Excellence is a classic Italian liqueur made from organic star anise. It is obtained by steam distillation of star anise seeds. Spices, alcohol and sugar are then added.
In the tasting it offers a magnificent aroma of aniseed in the nose as in the mouth.
It can be enjoyed iced with a few coffee beans in the glass, as a "caffè corretto" and is perfect with gins and vodkas for the preparation of various cocktails.
Additional information
Alcohol content: 40%
Packaging: 0.7 l
Producer: Distilleria Walcher
Region/Country: Trentino-South Tyrol/Italy
In stock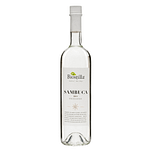 Sambuca Bio Excellence
38.00

CHF
In stock