Mandarinetto "Il Convento" – Tangerine Liqueur
35.00

CHF
Epicurious Brothers selected the Mandarinetto "Il Convento" – Tangerine Liqueur.
This liqueur is produced in Massa Lubrense, a town on the Amalfi Coast, opposite the island of Capri.
Mandarinetto is obtained by infusing tangerine peels in neutral alcohol. The result is a very balanced, fresh and natural digestive.
As with our Limoncello "Il Convento" BIO IGP from the same house, the guarantee of quality is indicated by the presence of a thin layer of essential oil of mandarin.
Limited production!
Additional Information
Alcohol content: 30%
Packaging: 0.5 l
Producer: Azienda Agricola Il Convento
Region/Country: Campania/Italy
In stock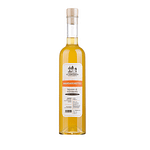 Mandarinetto "Il Convento" - Tangerine Liqueur
35.00

CHF
In stock