Amaretto BIO Flower
36.00

CHF
Amaretto BIO Flower is an artisanal almond liqueur.
Made from real bitter almonds, Madagascar vanilla, the finest Peruvian cocoa beans and a wheat alcohol base. All ingredients are certified organic.
This exceptional liqueur can be enjoyed as is with an ice cube as a digestif or to make the best "Amaretto Sour" you have ever tasted!
More information
Alcohol content: 21 %
Format : 0.7 l (Fr. 51,43.-/1 l)
Producer : Distilleria Walcher
Region/Country : Trentino-South Tyrol/Italy
In stock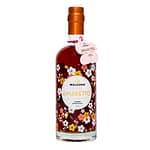 Amaretto BIO Flower
36.00

CHF
In stock