White Vermouth BIO "Sole e Luna"
20.00

CHF
The organic white Vermouth "Sole e Luna" from the Walcher distillery is made from a maceration of more than 30 aromatic herbs and spices to which an exquisite organic white wine is added.
Vermouth was created in 1796 in Turin. Its name is derived from the German word Wermut which designates the wormwood plant, an essential ingredient of this fortified wine.
Essential for the creation of world-famous cocktails such as the "Manhattan" (White Vermouth BIO "Sole e Luna", Rondò Spritz BIO and soda) or the "Dry Martini" (White Vermouth BIO "Sole e Luna" and one of our gins – "La vita è bella BIO" or the Premium Organic Gin). Can also be enjoyed on the rocks to appreciate the quality of this magnificent Vermouth.
More information
Alcohol content: 16%
Format: 0.75 l (Fr. 26.66.-/1 l)
Producer: Distilleria Walcher
Region/Country: Trentino-South Tyrol/Italy
In stock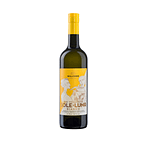 White Vermouth BIO "Sole e Luna"
20.00

CHF
In stock