Veneziano Organic Spritz
18.00

CHF
Veneziano Organic Spritz is the perfect base for concocting your 100 BIO spritz.
Fruity and fresh, Veneziano Organic Spritz is produced from lemon juice and blood orange concentrate from Sicily. The sweetness of this aperitif is brought by the concentrate of blackcover, apple and carrot. The extracts of gentian and rhubarb roots give the perfect hint of bitterness.
Totally natural, without artificial colours and aromas.
Ideal for concocting the famous Venetian Spritz:
– 3cl of Veneziano Organic Spritz
– 6cl prosecco "Extra Dry" BIO Pizzolato
– A hint of seltz or sparkling water
– A zest of orange or lemon
More information
Alcohol content: 11%
Format: 0.7 l (Fr. 25.71.-/1 l)
Producer: Distilleria Walcher
Region/Country: Trentino-South Tyrol/Italy
In stock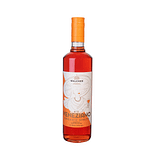 Veneziano Organic Spritz
18.00

CHF
In stock