Extra Virgin Olive Oil BIO 250 ml "Earth Nostre"
8.00

CHF
Epicurious Brothers has selected organic olive oil Terre Nostre.
This olive oil is obtained exclusively from olives grown, picked and worked in Italy in strict compliance with the methods of organic farming.
Produced from a mixture of olives from Puglia, Sicily and Calabria. This blend gives this olive oil, obtained only by mechanical processes, a very fruity flavor.
Very soft in the mouth with slight bitter and pungent notes. Terre Nostre olive oil has an acidity of 0.5, with laws allowing 0.8 for extra virgin olive oils.
More information
Ingredients: Coratina, Ogliarola, Biancolilla, Cerasuola, Nocellara del Belice and Carolea.
Format: 250 ML
Suggestions for tasting: Daily use.
Producer: Montalbano Agricola Alimentare Toscana S.p.A.
Region/Country: Tuscany/Italy
Out of stock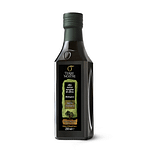 Extra Virgin Olive Oil BIO 250 ml "Earth Nostre"
8.00

CHF
Out of stock