Piedmont BIO Hazelnut Cream – Teo and Bia
12.90

CHF
Piedmont Teo and BIA's hazelnut cream is a handmade spread that comes entirely from organic farming.
Only 3 ingredients make it up:
47 Piedmont hazelnuts (considered the best variety in the world)
Cane sugar
Bitter cocoa
This hazelnut cream is suitable for everyone. Organic, vegan, gluten-free, lactose-free, soy lecithin and of course without palm oil.
Unctuous and fragrant this cream is unforgettable!
More information
Ingredients: Piedmont hazelnuts (min. 47), cane sugar and bitter cocoa. From organic farming
Format: 212g. (Fr. 60.85.-/1 kg)
Suggestions for tasting: Breakfast on toast or spoon for the greedy.
Producer: MB Alimentari di Magné G. e Baldo SAS
Region/Country: Piedmont/Italy
En stock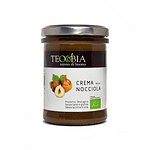 Piedmont BIO Hazelnut Cream - Teo and Bia
12.90

CHF
En stock